Its a warm summer's night at Swanwick Junction, folk are sat on the grass and on cushions around a small marquee. There's barely a cloud in the sky, and already I've spotted friends and people I know at the Indietracks festival site.
When I arrived I caught strains of The Validators tuning up, small children frolicked on the common, sheep idly ate their grass in anticipation of the weekend's thrills.
We've been fans of
MJ Hibbett
for a long time at this website, heck, I've been a fan for years. MJ Hibbett has spent years living his exciting life in rock and so is doing a show at the Edinburgh Fringe called My Exciting Life in Rock. Its just a one man thing, anecdotes and songs on his guitar, or where necessary, his ukelele. But this evening, as an Indietracks special he has his band, The Validators, to play the songs with him.
For his song
"Do The Indie Kid"
they had small children on stage demonstrating the dance steps, I forsee a long career in the music industry for them.
Things that occur to me whilst watching his show:-
a) Who can I get to draw the Dinosaur Planet comic? Who could do it justice?
b) MJ Hibbett was worried that the drums would be too loud, but would be relieved that they're them for the occasion
c) For the anecdote about getting drunk in Glasgow in '04, where I was there then, my overriding memory is when the first band to play in the tea room had had trouble with the PA system, when MJ Hibbett took to the stage he overcame the problems by stepping closer to the audience and by singing louder, such practical problem-solving techniques influence me to this day.
d) For the anecdote about playing a gig to an audience of three peoplein '05, one of them has gone on to become a singer with The Just Joans and another is now bass player for NME faves Dananananaykroyd. So it was kind of like the Sex Pistol's Free Trade Hall show.
If you happen to be in Edinburgh between the 4th and 9th of August, make sure you check out MJ Hibbett's Exciting Life in Rock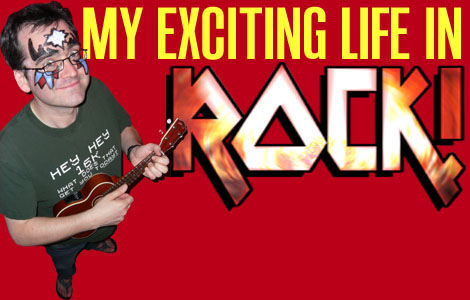 You'll love it
Other reviews
MJ Hibbett
Other Photies
Penny Broadhurst
Trev Lost